Sophos Partner
---
A single security solution that delivers high performance to all end users
Protect the integrity of your company's assets
'Security made simple' is the motto adopted by Sophos, a leading IT security provider. Sophos offers your organisation the ability to secure every end-point of your network; from servers to laptops, virtual desktops to web, email and mobile traffic.
Our partnership with Sophos
We have access to Sophos' full technical support. Our sales department can advise you on the best solution, with the best purchase options to maximise cost savings and give you the protection your business needs against the latest threats.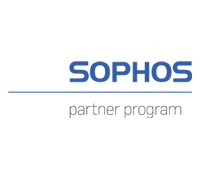 Our Sophos Partner Solutions
---
Network Protection
Next generation firewall protection across your entire IT estate.
End User Protection
Comprehensive security solution for users and their data, including mobile.
Server Protection
Defend your data from malware without sacrificing server performance.
Reporting
Rich actionable reporting provides immediate insights into threat activity, content filtering performance, and quarantine status.
We run iMac's here at Brand-ing and with the recent security scares IP6net advised we take a look at Sophos's advanced security suite. We have been very happy so far and the product has not impacted on day to day operations which was important to us.Gary Ingram Brand-ing Communications Ltd